"The hybrid working model has become the most popular way of working today amongst office workers."  
This assessment comes courtesy of Flore Pradère, the Global Work Dynamics Research Director at JLL, in the foreword of JLL's latest iteration of their Workforce Preferences Barometer paper. The publication explores employees' new work expectations, and deconstructs some of the ways that employers can best support their workers in the new hybrid world. 
Here, we discuss the publication's findings, and we investigate how these factors are affecting tenancies in the office sector; have agencies noticed a change in the spatial and amenity requirements of businesses in the wake of these changes? 
What are the statistics saying? 
According to JLL's analysis, only 26% of the office workforce works exclusively from the office, with 55% of employees engaging in hybrid work throughout the course of a week. That's up 5% from JLL's survey conducted in 2021.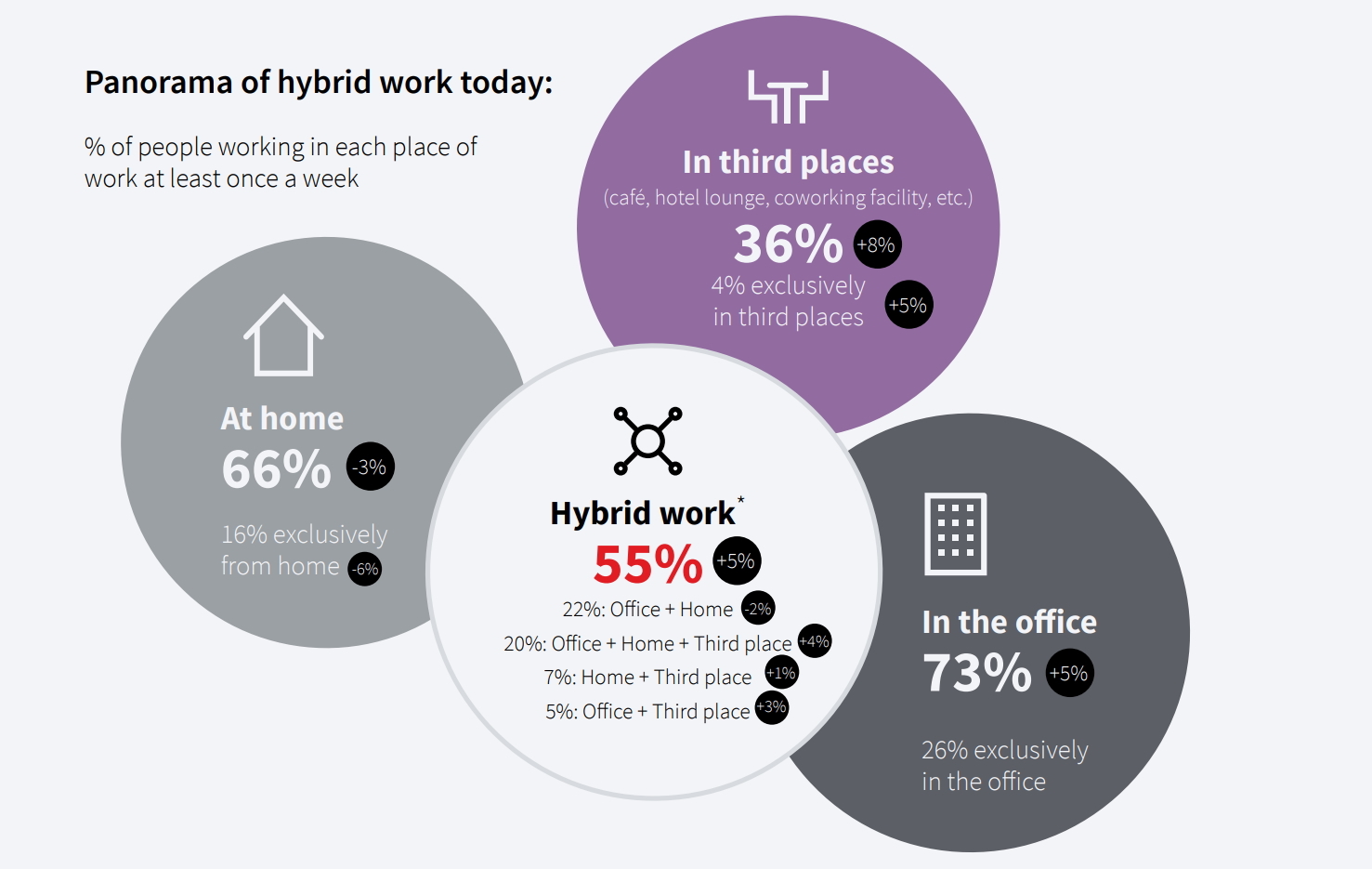 Panorama of hybrid work today - Workforce Preferences Barometer 2022
What's interesting is that the expectation of hybrid work from employees has reduced over the past year. Back in March of 2021, 63% of the workers JLL surveyed stated that they expected to adopt a hybrid working schedule; that number dropped marginally in April of this year, when only 60% of respondents exhibited this expectation.  
The expectation has likely dropped due to the easing of restrictions that have allowed workers to re-enter the office space. As such, some employees have realised that they prefer in-person workspaces, and their expectations have adjusted accordingly.   
In a standard working week, employees are typically working 2.7 days from the office, with 2.3 days being spent in alternative locations. 
It's not always home though; many workers are opting to work from third places, like coworking facilities, hotels, etc. 
There are benefits and problems associated with all types of work, but the recurring motif within this report is that businesses are expected to be adaptable. Each employee is an individual, and catering to the individual needs of workers is the key to keeping them invested in the values of the company at large. 
Respondents listed "good quality of life / work-life balance" and "working in a company that ensures my health and wellbeing" as their two highest priorities for work, and the organisations that are able to satiate these needs will likely emerge as those with the lowest rates of turnover in their respective industries.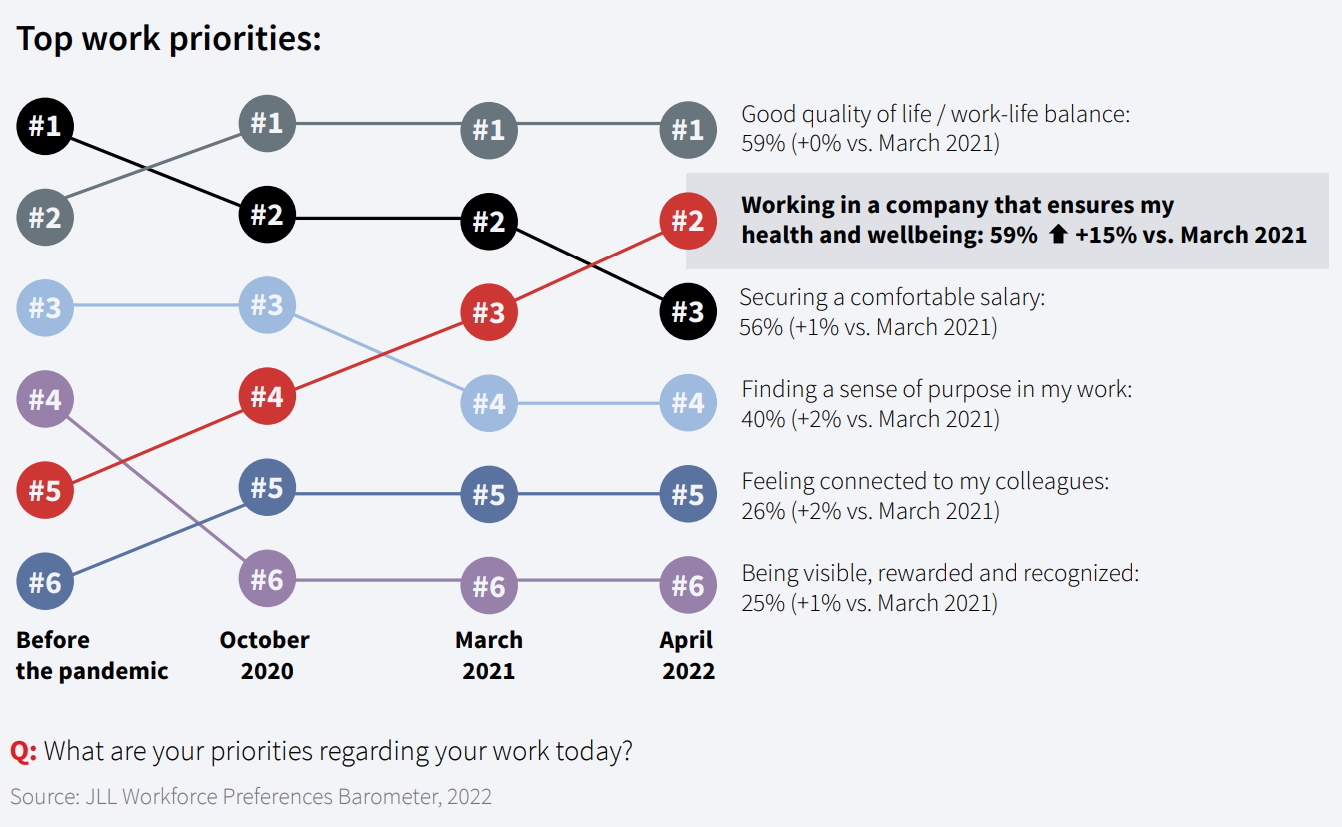 Top work priorities - Workforce Preferences Barometer 2022
How is the evolution of workplace preference affecting the way offices are viewed? 
"It's the topic at the forefront of everyone's mind." 
According to Claire Moran, the Head of Workplace at Knight Frank Australia, clients are aware of the rise of hybrid work, and are invested in finding ways to make it work within the tapestry of their business. But in doing so, organisations are required to conceptualise the "workplace" differently to how they might have before. 
"It's about layering the workplace... place, technology, and people, underpinned by leadership." 
These three "spheres" - of place, technology, and people - are integral to what the switch to hybrid working has ultimately illuminated: the office is no longer just "a container for people", but a segment within a broader picture. "Work" is much more than just an office. And if the office isn't the be-all, end-all, then you have to give workers a reason to make that commute. 
"It's an intentional trip to the workplace," states Janet Martin, CBRE's Pacific Regional Director of Workplace Strategy and Chance Management. "The workplace needs to be consciously designed with this in mind." 
If workers have the choice between working from home, the office, or from a third location, then it's up to businesses to create a point of difference that motivates workers to make the commute in. If the office offers all of the same amenities that an employee has access to at home, they are significantly less motivated to make the trek.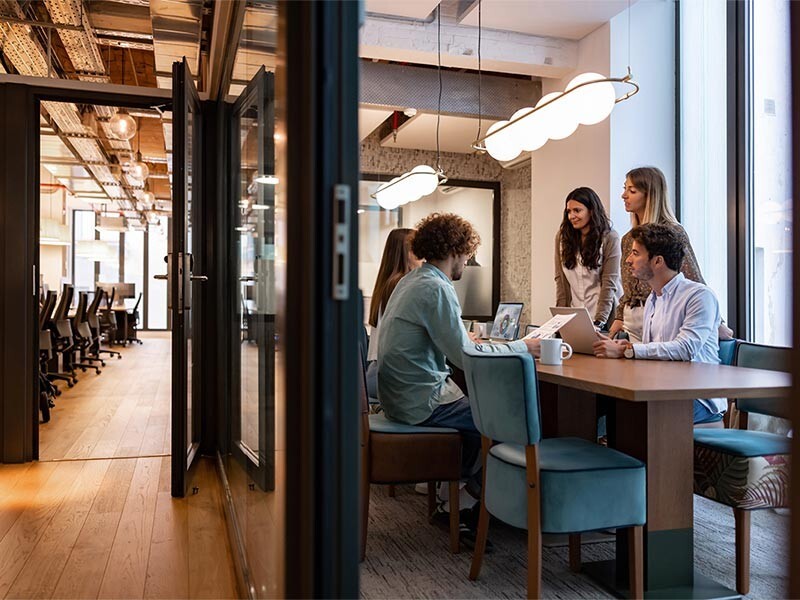 Courtesy of JLL - Workforce Preferences Barometer 2022
What are the tangible differences in the office property sector? 
"Management has to be about the welfare of the team. Do they feel their mental and physical wellbeing is all good?"
According to JLL's Head of Tenant Representation for Australia, Michael Greene, retaining employees requires businesses to help look out for their worker's core needs, and one of the ways that they are trying to do this, is to create more collaborative space. 
"It used to be that 60-to-70% of an office was made up of concentrated space, with about 40% collaborative space. That has essentially flipped."
That usage of space offers a greater degree of flexibility, for both workers and employers. For workers, this change emphasises what the office space provides that Working From Home (WFH) struggles to; greater opportunity for socialisation, and direct collaboration. Whilst a worker might be able to bury their head in their work more easily at home, they mightn't be as communicative with their co-workers. This has the potential to both hamper their sense of identity within a business, and also harm their work, as feedback becomes more difficult to attain outside of the office.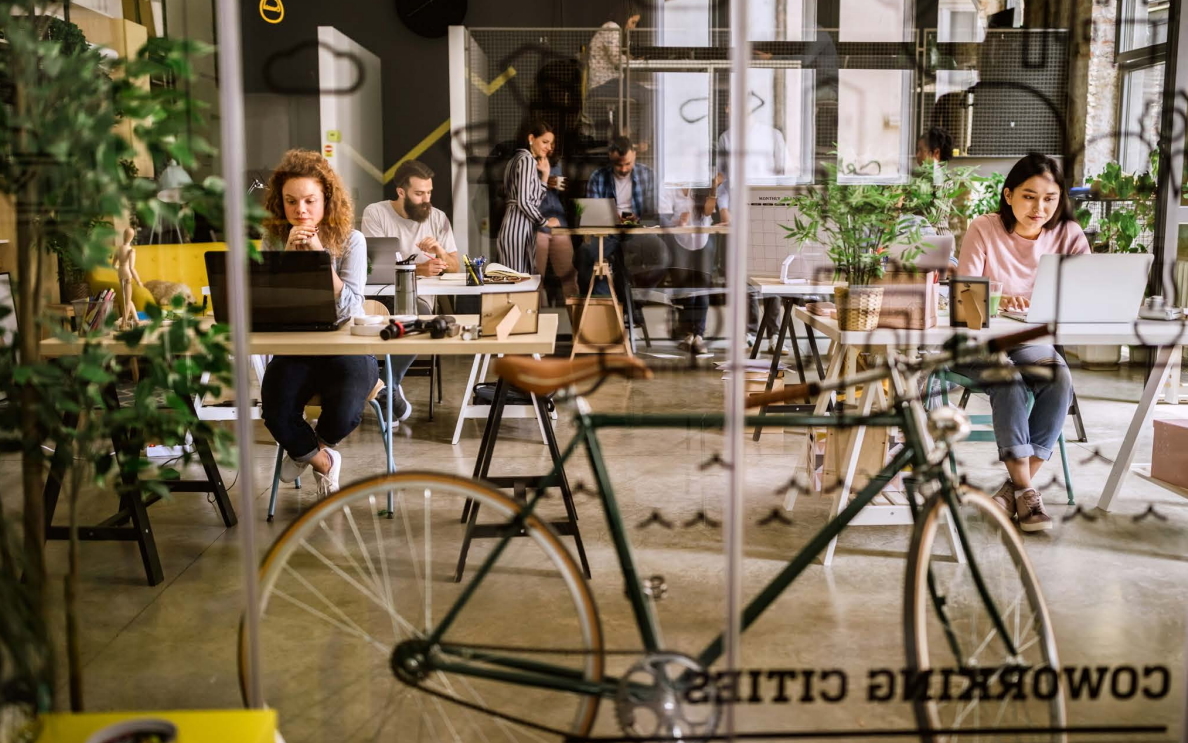 Courtesy of JLL - Workforce Preferences Barometer 2022
For employers, this flexibility can reduce the amount they're paying. "The office remains a huge overhead," Ms. Moran stresses. Mr. Greene says that many companies are now paying for "core space", and opting for properties where they have access to additional coworking space that they might need for events, or for when they have more workers utilising the office than usual. 
"The tenant needs access to that flexibility... going to the landlord and saying, I need access to this coworking space for this amount of time." 
These changes are empowering small-to-medium enterprises (SMEs), as these businesses are now gaining access to coworking spaces that they typically wouldn't have been able to afford. They can rent core space in a building which allows its tenants to operate in shared and casual spaces, and that space can then be employed by workers.  
Fitzroys' Director of Office Leasing, Phillip Cullity, has identified amenity as a primary incentive for businesses evaluating their office requirements.
"Tenants are wanting fresh air and balconies. They want good access to open living areas." 
When asked about whether these motivators are driving some businesses away from high density metropolitan areas, Cullity reinforced the value in good quality CBD space.
"With its amenity and transport options... the CBD is, to me, the best option for businesses looking for space."  
When referring to Melbourne specifically, Cullity believes rents are still "quite low compared to Sydney", in part thanks to fringe suburbs like Collingwood, Abbotsford, and South Yarra, all of which offer alternative options for businesses that view the CBD as too expensive. "We've found that family offices are quite popular in South Yarra."  
---
The question that WFH seemed to prompt most often at the onset of 2020 was, "Won't this affect our workplace culture?" But as Mr. Greene emphasises, "Culture is caught, not taught." A workplace culture is still very much possible in a hybrid working environment, and the changes that businesses are making to their spatial requirements are reflecting this possibility.