While 2020 has been a year of disruption for the international economy due to COVID-19, the impacts have been limited and strangely beneficial when considering the Perth economy and more specifically the industrial property market, according to Ray White Commercial's latest Between the Lines* research.
 
"The outlook for the Perth industrial market is one of prosperity, the growth in underlying demand for stock has been outstanding over the past six months, reducing vacancies and keeping rental rates elevated," said Ray White Commercial Head of Research Vanessa Rader.
 
"This period, we've witnessed a rapid reduction in vacant stock with just 663,613sq m of unoccupied stock currently available across the total Perth industrial market.
 
"Last October we recorded 1.10 million square metres of vacant stock, up from April where 930,000sq m was collected, these however represented the sub-5,000sq m market compared to the total market recorded this year.
 
"This stark turnaround in occupancy has been felt in late 2020 and into 2021 with demand for new accommodation from both existing and new tenants flooding the market.

"In terms of vacancy, this period's count shows excellent results when compared to six months ago where vacancies were up, and rents showed signs of tightening. We're now seeing enquiry levels lift and vacant assets or secure leased investments for sale moving quickly.
 
"Leasing transactions on vacant buildings are still occurring, however have not performed well as sales, given the financial benefit and logic for the traditional tenant to strongly consider purchasing their own facility as opposed to leasing.

"Encouragingly, with the improved sentiment surrounding the industrial market and Perth in general, investor interest for fully tenanted properties with a minimum five-year lease remains robust for both local, interstate, and international investors seeking a secure source of income.
 
"There are strong levels of demand from tenants for more modern properties however by far the main driver of demand for industrial property has been owner-occupiers seeking to make use of the government stimulus received.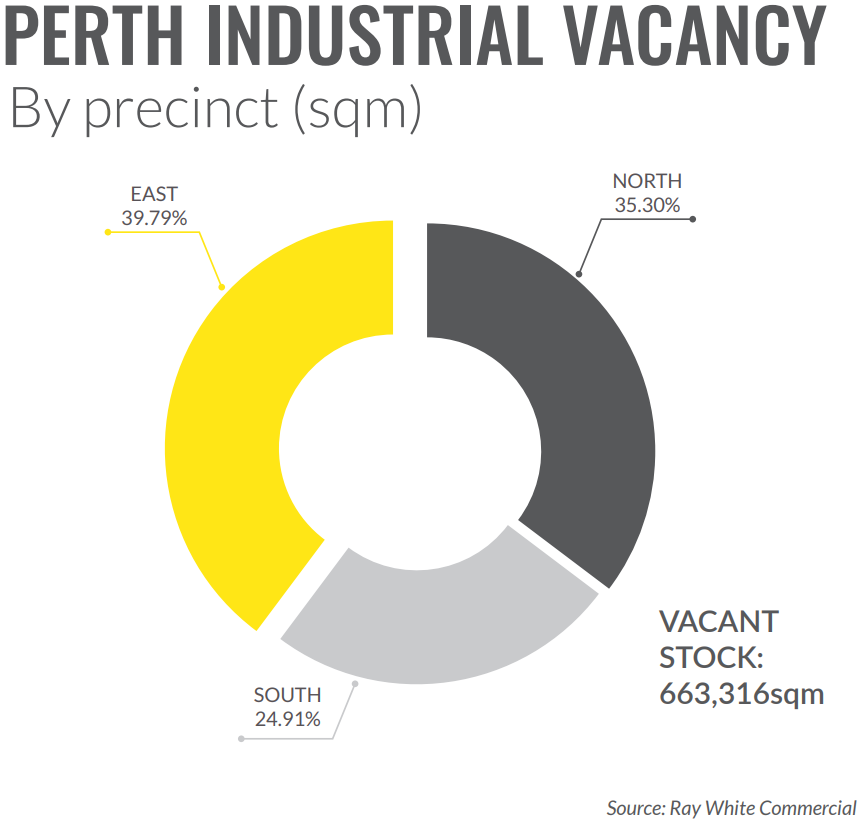 "This is attractive when combined with record low interest rates and some banks now willing to lend up to 80 per cent of a property's value, as compared to the traditional 60 to 70 per cent."

Ray White Commercial (WA) Director Chris Matthews said in late 2019 the WA industrial market was finally beginning to gain some traction after seven years of a stagnant market and gradual declining property values.
 
"This tied in with favourable lending conditions and large amounts of government stimulus has turbocharged the WA industrial property market with owner-occupiers for vacant property outbidding what investors or developers are willing to pay," Mr Matthews said.
 
"In 2020, we recorded $828.69 million in industrial property transactions across the Perth metropolitan area, unlike other regions which saw volumes fall by up to 45 per cent during the COVID-19 period, Perth's results were up 10.70 per cent on 2019 results.
 
"From an investor perspective, low interest rates and the desire for secure long-term income as an alternative to low yielding investment options such as bonds have been a driving force in leased investment sales.
 
"This demand for income-producing commercial property is not unique to Perth with demand for similar assets across the East Coast markets, however a lack of stock on the market has kept volumes low in these markets prompting interstate buyers to consider Perth investments.
 
"We've seen an influx of these buyers who have been drawn to the strong local economy and attractive yields which are on offer, which have put some pressure on these rates.
 
"Prime industrial yields are currently in the six to seven per cent range with smaller assets achieving rates below this level. This still offers value when considering the current cost of money and compared to yields achieved in other major cities.
 
"With stock levels low, we expect buyers may move up the risk curve and put further pressure on both prime and secondary rates during 2021."