Held on Wednesday March 31st, 2021 at Crown Casino in Melbourne, Burgess Rawson were excited to showcase and offer their latest portfolio investment properties to the Australian market. 
With 26 high profile properties up for sale in locations across Victoria, Queensland, Western Australia, South Australia and Tasmania, investors from all over Australia were eager to acquire the premium sites up for offer. 
In a jam-packed room full of buyers and agents dealing with phone and online bidders bidders, the day started off in bullish fashion, as the first 7 properties sold at an average of 17% above the reserve. 
With bids coming in thick and fast throughout the day, a remarkable result was achieved with a 100% success rate, highlighting a very strong market performance. 
$109,406,000 worth of property ended up selling at the successful portfolio event, amounting to $11.7 million over the reserve, thus representing an overall average of 11% above the reserve.
Amazingly, there were 158 registered bidders across 25 properties, forming an average of 6 bidders per property.
Commenting on the amazing results from the day, Director of Burgess Rawson Billy Holderhead announced that "today, we had an estimated buyer pool of $633 million, which demonstrates that demand currently outweighs supply six times over."
1000 people from across Australia, New Zealand, Hong Kong, Taiwan and the USA watched the event live online, whilst a handful of online bidders also joined the party, placing bids on 5 of the properties that were up for sale. 
Reflecting on the successful results from the day, Burgess Rawson Director Shaun Vanables stated, "todays results are a confirmation that investors will look far and wide for the right investment. Different asset classes and different locations ensure that they can get a return on their money, as the stock market has been a roller coaster."
"You can't rely as heavily on capital growth and residential anymore, and the return from the banks are minimal. The assets offered today provided a lot of the fundamentals that people are looking for and I believe people walked away very happy with their acquisitions."
Congratulations to the team at Burgees Rawson on an outstanding Portfolio Auction Event!
Results from the Portfolio event can be found below: 
1. Pizza Depot (Ascot Vale, VIC) - Withdrawn
2. Kedron Park Hotel (Kedron Park, QLD) - Sold (Price Undisclosed)
3. Pelican Waters Tavern (Caloundra, QLD) - Sold (Price Undisclosed)
4. Edinburgh Castle Hotel (Kedron, QLD) - Sold (Price Undisclosed for now)
5. The Top Pub (Morwell, VIC) - Sold (Price Undisclosed)
6. Dental One (Wollert, VIC) - Sold for $1,466,000 (4.79% yield) 
7. Victoria State Government (Warrnambool, VIC) - Sold for $5,575,000 (5.15% yield)
8. Industry Beans Cafe (Newstead, QLD) - Sold for $5,150,000 (4.08% yield)
9.  Crest Children's Sanctuary (Dandenong, VIC) - Sold for $7,630,000 (5.09% yield) 
10. Jenny's Early Learning (Maiden Gully, VIC) - Sold for $3,950,000 (3.52% yield)
11. Imagine Childcare (Toowoomba, QLD) - Sold for $6,630,000 (5.39% yield) 
12. Brisbane City Childcare (Brisbane, QLD) - Sold 
13. Shell/Viva Energy (Klemzig, SA) - Sold for $2,550,000 (4.19% yield) 
14. Dulux / Cash Converters (Morphett Vale, SA) - Sold for $3,730,000 (6.15% yield)
15. Carl's Jr (Thomastown, VIC) - Sold for $6,410,000 (4.62% yield) 
16. Nubco Hardware (Kingston, TAS) - Sold for $4,000,000 (5.42% yield)
17. Nubco Hardware (Mornington, TAS) - Sold for $2,085,000 (5.21% yield)
18. Nubco Hardware (Wivenhoe, TAS) - Sold for $1,250,000 (5.75% yield) 
19. Pizza 1B (Craigieburn, VIC) - Sold for $785,000 (5.84% yield) 
20. Cheap as Chips / Flight Centre (Bairnsdale, VIC) - Sold for $3,665,000
21. Day Spa (Oakleigh, VIC) - Sold Prior (Price Undisclosed)
22. Affinity Education (Kelso, QLD) - Sold for $2,435,000 (6.11% yield)
23. Government / Medical Centre (Mount Isa, QLD) - Sold prior $1,820,000 (8.77% yield)
24. Medical Centre (Mount Gambier, SA) - Sold for $2,920,000 (6.37% yield) 
25. Bar/Restaurant (St.Kilda, VIC) - Sold (Price Undisclosed)
26. Sparrow Early Learning (Quinns Rocks, WA) - Sold prior for $2,720,000 (5.36% yield)
27. Car Wash (Townsville, QLD) - Sold prior for $2,240,000 (5.15% yield)
Keep an eye out, as Burgess Rawson's next portfolio auction event will be in May.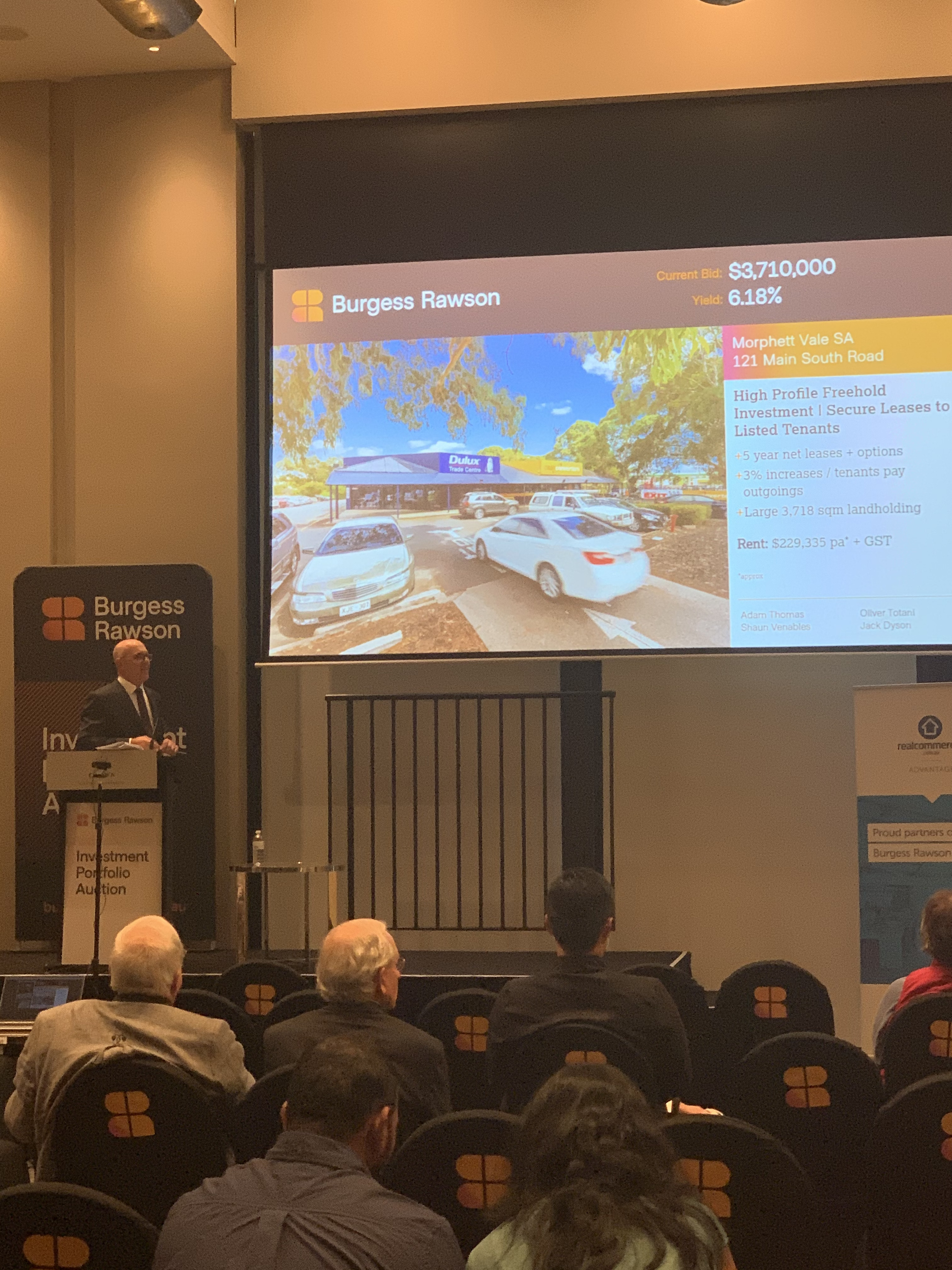 Burgess Rawson Portfolio Auction 143 (March 31, 2021)