Sydney – October Thursday 28, 2021 – As consumer behaviours shift during the endemic phase of the pandemic, Gyms and fitness studios could be the next major target for shopping centre owners, helping landlords fill vacancies, according to new CBRE research.
There are close to 5,000 gyms currently operating in Australia, with the number of gym businesses having grown by 5.3% per annum since 2016 and further growth of 3.3% per annum expected to 2026.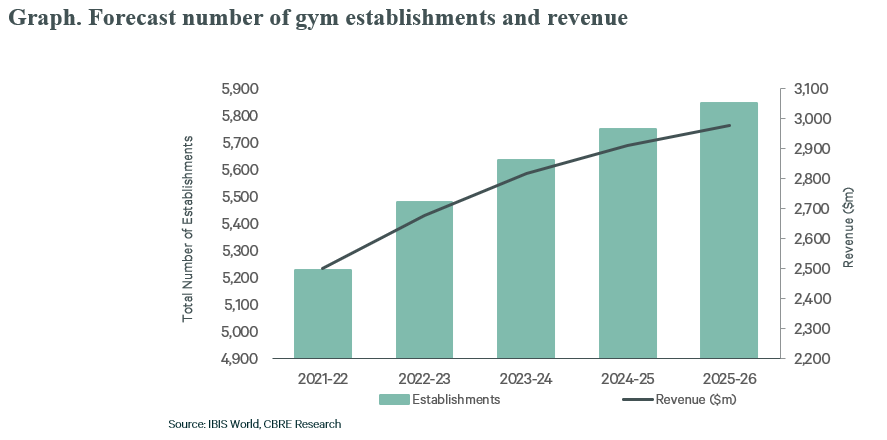 In turn, this could provide a ready target market for shopping centre landlords, particularly in regional centres, as tenants shift operations online and streamline their retail footprints.
CBRE Research Director Kate Bailey notes, "Gyms not only take large footprints, but they also change the visitation patterns in centres. While peak visitation is during traditional working hours, gyms increase foot traffic early in the morning and after work which helps activate centres and improve sales for co-located tenants. As Australia emerges from the impacts of COVID and demand for health and fitness surges, shopping centres will be well positioned to capture this growth and drive increased foot traffic and sales."
On average, a third of all shopping centres in Australia have a gym tenant with Western Australia and South Australia having the highest proportion of gyms in centres. However, the low proportion of shopping centre gyms nationally suggests there are still considerable opportunities.
CBRE's data shows that of the approximately 484 gyms located in Australian shopping centres, 38.4% are in neighbourhood centres, followed by subregional centres (25.4%) and large format retail centres (14.5%). The commonality with these centres is the accessible on grade parking offered which allows patrons to park at the front of the centre and directly access the gym. Moreover free, untimed parking offered at most shopping centres is also a drawcard for gym goers.
"Neighbourhood centres are most suitable for smaller budget gyms that do not have a high marketing spend and leverage off visibility and signage. Currently just 23% of neighbourhood centres contain a gym and subsequently, there is considerable opportunity for more neighbourhood centres to incorporate gyms. However, many larger shopping centre vacancies are in regional centres," Ms Bailey said.
Much of the vacancy space in regional shopping centres has been driven by apparel retailers focusing on their e-commerce strategies, to meet the new consumer behaviours. This is compelling landlords to consider alternative mix use options, of which larger gyms and rock-climbing walls now have the opportunity to take on.
Lewis Torkington, CBRE's National Director, Shopping Centres, notes that the trend for gyms and fitness studios to increasingly target shopping centres is already occurring.
"Both landlords and gym owners see the benefits for taking up these larger format styles. Landlords reap strong foot traffic drivers while gym operators see the benefit in the exposure that a shopping centre offers. An emerging brand EMF Performance Centre in Queensland is an example, with the group creating large scale super clubs within shopping Centres such as Robina Town Centre and Pacific Fair," Mr Torkington said.
CBRE's report highlights that virtual class subscriptions boomed during the pandemic but as restrictions ease gym goers relish the in-person class format and use of equipment. However, consumer behaviour towards hygiene and previously imposed density limits has meant that large format gyms and fitness suites, that have the luxury of space, will be positively viewed by consumers.